it's not too late to surprise your loved one with one more special little gift this valentine's day! here are some ideas to help you go above and beyond before you call it a night!
for her:
a love note
a handwritten note on loose leaf telling her how much she means to you beats a store bought card every time.
breakfast for dinner
chocolate chip pancakes, sizzling bacon, and
heart-shaped eggs
! breakfast for dinner is my all-time favorite (and so easy and cheap!) wouldn't this be a fun break from the traditional candle-lit dinner?
flowers
every girl likes flowers regardless of what she tells you. rather than a dozen roses, pick up a single rose this year, or a pretty and unique arrangement like
this one
.
perfume
a great way to help your love feel pretty and feminine. try
chanel no. 5
. sweet, elegant and classic. you can find it at most department stores.
a clean house if she came home to sparkling counter tops, a vacuumed living room, or freshly laundered towels, you win.


for him: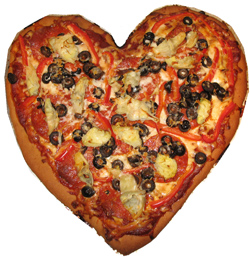 heart-shaped pizza
make your own, or pick up a take 'n bake. who doesn't love pizza?
a head rub
as far as i know, head rubs are loved by all males. not into it? pick up the invigorating
tea tree shampoo
that's like a minty head rub every time he showers. available at target and walmart.
the zombie survival guide
complete protection from the living dead. steve
needs
this.
pick it up
at barnes and noble or walmart.
slippers
these aren't just any
slippers
. they're memory foam slippers that not only keep his feet comfortable all day and night, but regulate temperature, so that they're never too hot or too cold. awesome. find them at bed bath & beyond.
a framed picture of you for his desk or office so he can think of you at work. and so female co-workers get the hint.